Change for Life
Change for Life
6 September 2017 (by Head Admin (Headteacher))
10 minutes a day!!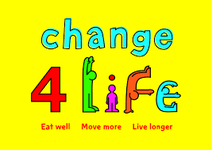 In school we do lots of work to keep your children fit. The children also keen to keep fit and measure their own fitness levels. We now see lots of children wearing 'fitbits' to measure how many steps they have taken, how kilometres they have walked and so on.
We believe that one way to help keep the children fit is by setting a good example!!
Mrs Clee (PE Teacher) leads our Change4Life programme in school and together we thought we should share the new C4L app - Active 10 - which encourages us all to complete 10 minutes of brisk walking every day.
The following section is taken from their website.
We all want a healthy family but it's easy to forget about yourself. Our free Active 10 app recommended by TV Doctor Zoe Williams is the perfect way to help get you started. It shows you how you can fit more exercise into your daily life - because 10 minute brisk walks actually count as exercise.
Brisk walking can boost your energy, clear your head and lift your mood. It's also good for your long-term health as it can reduce your risk of serious illnesses like heart disease and type 2 diabetes.
Download the app and start the fight back to a healthier you.
We hope you all find this useful
Chris Perry (Headteacher)