Sweet Science in Y6
Sweet Science in Y6
11 January 2018 (by Head Admin (Headteacher))
Classifying and Sorting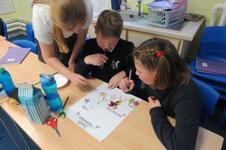 Science with Sweets!
Year 6 have started their science topic on classification with a sweet treat!
They have been using complex venn diagrams and learning about sorting trees to classify different types of confectionery according to their own criteria.
The children tried and tested each others methods to decide if their criteria were robust and their sets and sub-sets were as they had intended.
But what happened to the sweets?