Y4 Science Investigation
Y4 Science Investigation
12 January 2018 (by Head Admin (Headteacher))
When is a space a space?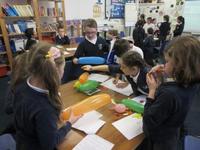 So, are spaces really empty?
This was the question that Year 4 investigated in Science this week.
They weighed air, did magic cup tricks, watched raisins dance, soaked different types of sponges and raced ping pong balls.
They can tell you now if spaces are really empty....!!