Y6 Detectives
Y6 Detectives
1 February 2018 (by Head Admin (Headteacher))
Solve a terrible crime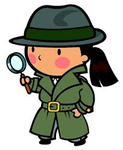 A serious crime took place in The Old School Room and Year 6 were called upon to investigate.
As part of their topic on Crime and Punishment, Year 6 used their detective skills to investigate a murder scene; collecting evidence and drawing conclusions as to the circumstances that led up to this tragic event taking place.
Their evidence will be supplemented with witness statements so that they can produce their own crime scene reports.
"We really enjoyed this activity as it was fun, practical and a different way of learning," said Jack, Bethan and Freddy.