Safer Internet Day
Safer Internet Day
9 February 2018 (by Head Admin (Headteacher))
Helping our children stay safe online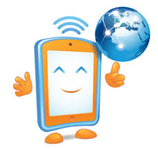 Year 2 have been learning all about how to stay safe online. The children asked each other how they could be a good friend online? They also designed part of a jigsaw to promote safer and kinder Internet use.
The Reception class listened to the story of 'The Three Little Monsters'. They discussed what was said to them online and how that made them feel. The children also talked about who helped the monsters. The reception children found out more about what it means to 'connect' and then created a huge web by passing a ball of wool across the circle. As the connection was made, the children complemented each other too!
Year 6 spent Safer Internet Day considering how they would expect an 'online friend' to behave and what sort of behaviours would upset others. The children showed great empathy and understanding, recognising how their thoughts and deeds can make other people feel and make a pledge to do a good deed to make someone else feel happy. As part of this work, they realised that it is their responsibility to keep themselves safe by being careful what they post; sharing their worries with responsible adults and using the report function on any platform they are using.
Year 4 made Internet Pledges as part of this year's Safer Internet Day Theme - 'Create, Connect and Share Respect'
Year 5 investigated how to keep safe online, particularly keeping your personal details private. They produced PowerPoints to share the message across the school.
To find out more as to how you keep your children safe online just go to the home page of the SCHOOL WEBSITE>COMMUNITY>NEED HELP AT HOME?