Year 5 Book Reviews
Year 5 Book Reviews
12 February 2018 (by Head Admin (Headteacher))
You'll need a QR Reader app to watch them!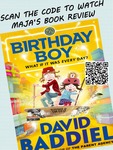 For the past few weeks the children in Year 5 have been looking at coding and how code has an impact on everyday life.
After using QR codes to complete a treasure hunt in school, they looked at how they could use QR codes in their learning.
The long term aim is for the book review codes to be on display in the library areas for other children to watch and inspire them to read different books.
What can be seen in the attached photo is a work in progress.
When you come to Parents' Evening this week - make sure you have a QR scanner app downloaded to your phone or tablet so you can scan and watch some of the Year 5 children's reviews.
The posters and QR codes can be found opposite the Year 5 classroom in the main corridor.
Get out your phones and scan!
Mr Gregory and Year 5