Science Week News
Science Week News
13 February 2018 (by Head Admin (Headteacher))
Day 1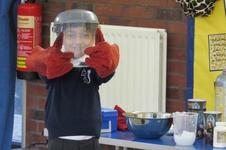 Science Week at school started with a 'Bang' and a 'Buzz' quite literally, as Professor Brainstorm introduced us to a world of scientific magic.
From human electric circuits, disappearing water, hammering nails with bananas, frozen flowers and popping Pringles.
We learnt all about how science is used in the real world.... and had lots of fun trying to work out the 'Magic of Science'.