Y4 Science
Y4 Science
16 February 2018 (by Head Admin (Headteacher))
Colour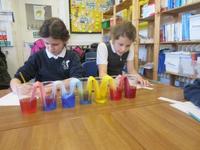 Year 4 have been observing changes in colours when they made their 'water walk'.
Using a series of full and empty cups of coloured water and kitchen paper they could see overnight how the water had been absorbed and 'walked' magically into the empty cups to create new colours.
They also created a class full of chromatography butterflies.