Y5 experiment during Science Week
Y5 experiment during Science Week
16 February 2018 (by Head Admin (Headteacher))
Absorbing and Dissolving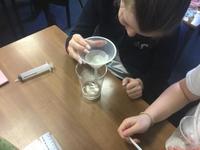 Year 5 have been busy testing the absorbancy of different papers and then relating their findings to everyday use.
It was important to keep to the fair testing rules so they could compare their results.
Next they defined dissolving and, using their definition, tested different powders to see which actually dissolved. There was a strong smell of coffee in the air!
As a next step, they began to test if they could get the liquid and solid back by filtering their solutions. There's more science to come...