World Book Day
World Book Day
1 March 2018 (by Head Admin (Headteacher))
A Brilliant Success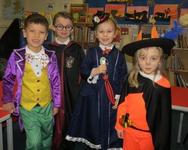 The snow didn't stop the children enjoying World Book Day.
Mr Perry dressed as Percy the Park Keeper and read the story 'Percy's Bumpy Ride' to the whole school at the start the day. The children followed the story on the big screen.
The day was all about celebrating the children's favourite stories and encouraging each other to read a new book.
The children's outfits looked brilliant too. Thanks to everyone for your support.