Year 3/4 Reading Club
Year 3/4 Reading Club
27 March 2018 (by Head Admin (Headteacher))
'Off to a flying start!'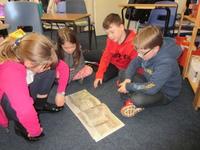 The Year 3/4 Kate Greenaway Medal reading club reviewed the first of the short listed books this week, 'King of the Sky' by Nicola Davies and Illustrated by Laura Carlin.
All their reviews will be put on our groups Blog to be read by schools around the country.
Unlike the Carnegie Medal award that annually recognises one outstanding new book for children or young adults, The Kate Greenaway Medal is a British literary award that annually recognises "distinguished illustration in a book for children".
The reading club or 'shadowers' have to consider how the illustrations add deeper meaning to the words. Is there a partnership between written and the graphic texts? Before they finally decide on their winning book and wait with bated breath to see if it is chosen as the winner of the Kate Greenaway Medal 2018.