Skip to be fit!!
Skip to be fit!!
27 March 2018 (by Head Admin (headteacher))
Sport Relief Activities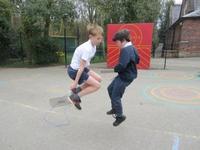 The children have done some skipping in their PE lessons during Sport Relief week. The younger classes have learnt to skip on their own with a rope, whilst the KS2 children have learnt to skip in a variety of ways including slalom, jumping jacks, backwards and heel tap. They also tried skipping in 2's face to face and side to side, before having a go at group skipping with a long rope. This proved great fun as most of them had never tried this before. They soon realised that those turning the rope needed to be in time with each other and those skipping had to concentrate hard in order to jump at exactly the right time! The children were also busy at lunch times taking part in the 'personal challenges' set by the School Games Makers Amelia, Charlie, Kate and Polly. Amazingly - they still had enough energy left on Friday to run the Red Line. Well done to everyone, a very active week!