Sports News
Sports News
27 March 2018 (by Head Admin (Headteacher))
League Season ends in Success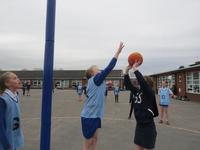 In the final league matches of the season the girls again played some great netball.
In their first game against Ashdene the score was level 1-1 at half time, which clearly shocked the opposition who came back stronger in the second half and managed to score another 2 goals, making the final score 3-1 to Ashdene.
Not to be deterred the girls played an excellent end to end game against Wilmslow Grange. At half time we were losing 1-0, however the girls didn't panic and continued to play steadily scoring a goal to make it a 1-1 draw at full time.
They won their 3rd game against Gorsey Bank 4-0, with Kate scoring a couple of great goals from the edge of the shooting circle.
The final game against Lacey Green was closer than the 0-4 score line suggests, with the girls not able to score this time despite getting it into the circle.
Overall the team came 4th in the league.
Well done to the whole team, who have improved week on week with their speed and accuracy of passing, close marking and overall game play.