Year 2 News
Year 2 News
28 March 2018 (by Head Admin (Headteacher))
Museum of Science and Industry in Manchester.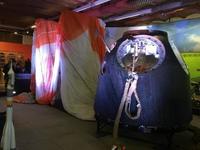 In the Manchester Mills Demonstration, the children heard about what life was like for a Victorian mill worker.
During the Engine Demonstration they learnt about how steam trains worked.
After that they had a wonderful time walking around the Robot Exhibition and explored what it means to be a human in a robotic world.
Last, but certainly not least, the children saw the SOYUZ TMA-19M which was Tim Peake's descent module, this demonstration explored the astronauts historic return to Earth at over 5000 miles/hour at a temperature of 1,600 degrees Celcius!
It is also worth noting that when Mrs Sym arrived back in school she told all the staff that the children were brilliantly behaved and how proud she was of them throughout the day. Well done Year 2!!