Maths Treat
Maths Treat
28 March 2018 (by Head Admin (Headteacher))
For Year 4 Class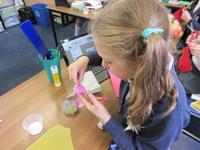 The Year 4 chidlren have been busily decorating their eggs, given to them from their Maths partners 'Spiky' and 'Curly,' as a thank you for all their help in Maths this year.
They've also been sent 250 little chocolate eggs for them to share.
Year 4 how many eggs will you each receive?