Summer Shows
Summer Shows
24 July 2018 (by Head Admin (Headteacher))
Information and Highlights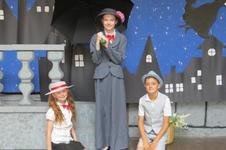 The West End has arrived in Alderley Edge! If you don't believe us just take a look at these photos of our amazing cast of Mary Poppins.

KS2 children will amaze and delight you with their renditions of the popular songs such as Chim chiminee, Spoonful of sugar… to name just a couple.

Brilliant performances are given by Year Groups 3 to 6 in this timeless story of the nanny who arrives and adds a bit of magic to the Banks' family.

The first performance is on Tuesday evening at 6.30pm at Alderley Edge School for Girls and the final night is Wednesday 25th.

Not to be outdone by their Key Stage counterparts, Key Stage 1 are presenting Eddie the Penguin Saves the World, on Wednesday and Thursday mornings in the school hall. KS1 Performances start at 10.00am. Eddie is on a mission to stop the polar ice caps melting and campaigns to show people how to save the world by growing trees and recycling rubbish.
And, not to forget our youngest performers, they too are treading the boards on Wednesday and Thursday, before Key Stage 1. Our Reception class are presenting Stella the Starfish, a delightful seaside story. The Reception Show starts at 9.30am.

All timings are approximate but the show will go on!!
Share this: