Governing Body News
Governing Body News
24 July 2018 (by Head Admin (Headteacher))
Précis of Governing Body Meeting held on 5th July 2018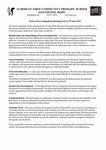 The Governing Body of the school met on 5th July 2018. Minutes of the meeting will be available on the school website in due course, however we felt that it would be helpful to publish a brief summary of the key topics addressed. These were as follows: -
Membership and functioning of the Governing Body – we continue to review how the Governing Body is structured and how effectively it functions. Jaclyn Pannell has resigned and the terms of office for a number of current governors expire later this year. We agreed that we should strengthen the current Governing Body by co-opting additional governors. We have confirmed the re-appointment of Mark Dewhurst and Gary Pickford as co-opted governors and an election for a new Staff Governor will be held in the autumn term.
As part of our drive to improve the effectiveness of the governing body specifically, Link Governor responsibilities were reviewed and re-assigned, and a formal self-evaluation process initiated.
School Funding – The budget and the 3-year financial projection was discussed. School finances remain under pressure but we believe that we have been successful in securing additional funding for children with special educational needs and disabilities. On that basis that this additional funding is confirmed we were able to present and approve a balanced budget.
School Performance – Is a key area of focus for the Governing Board. We discussed and agreed that a thorough review of the aims, ethos and vision of the school should be undertaken in the autumn term.
The School Development Plan for 2018/2019 was discussed and the plan/process for governor review agreed. Claire Finch will lead this for the Governing Board.
Headteacher Recruitment – In the light of Chris Perry's resignation the Governing Board has begun the process of recruiting a replacement. The Governing Board agreed to invest resources and time to ensure appointment of the best possible candidate. We will confirm the process and timing in the autumn.
Communications –We have begun to implement a number of actions to improve the visibility of the governors, to increase awareness of what the Governing Board does and to involve other key stakeholders in the development of the school.

Academy Trust – We have reviewed the progress made on the school's conversion to an academy as a founder member of a local community multi academy trust. We are working with the DfE and the Chester Diocese, in the case of St. Anne's, to process and progress our applications. We have provided additional information to both bodies and we anticipate that our applications will be considered in the autumn term. We will continue to provide updates for staff and parents on progress and plans during the autumn term.
If you would like to discuss anything in terms of this précis or anything else in terms of the school and/or Governing Body then do not hesitate to contact Tony Smith (Chair). chair@aecps.org
Share this: