Year 4 News
Year 4 News
26 July 2018 (by Head Admin (Headteacher))
What a Titanic Day!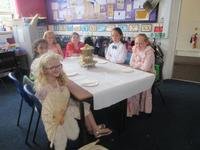 What a Titanic Day!
The Year 4 class spent today on their final Titanic science investigations. They decided to try to find the best way to disperse the load on board the Titanic.
Why a lemon apple and orange float and how would you make them sink? They created their own weight bearing pontoon, and investigated why not all metal objects sink.
They followed this by taking afternoon tea on board The Titanic before the fateful news that they had hit an iceberg!
Share this: