Learning to Learn
Learning to Learn
7 September 2018 (by Head Admin (headteacher))
Who is Holly the Hedgehog?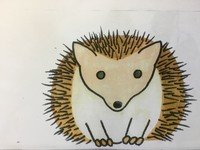 With a little help from Michael Jackson's Man in The Mirror to inspire them, the Year 5s have started the week researching, planning and finally creating their stories all about our class animal- Holly The Hedgehog.
Holly is one of the 5Rs the children will be focusing on throughout the year.
The hedgehog represents the skills associated with being reflective. This is demonstrated by them learning from their mistakes and looking for ways to improve their work.
Share this: