Year 2 Budding Biologists
Year 2 Budding Biologists
11 September 2018 (by Head Admin (headteacher))
Year 2 investigate habitats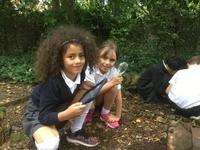 As part of the science curriculum, year 2 spent a wonderful afternoon in the environmental area.
The children were discovering animals in their habitats, including micro habitats. It was important to observe the animals closely in order to gather and record data.
This would then allow the children to identify the animals and answer questions when they were back in the classroom.
Share this: