Reception get sporty
Reception get sporty
11 September 2018 (by Head Admin (headteacher))
Reception learn new footballing skills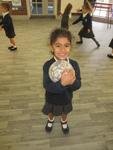 Today children in Reception received a football demonstration from Joe from PFC.
Joe works regularly in school, coaching the older children in team sports and running the school football teams.
The Reception children had a great introduction to football, learning how to dribble, drag the ball back and of course how to celebrate a goal.
PFC run a football club on a Friday after school that Reception children are welcome to attend. Further information can be found on flyers that will be sent home this week - please contact PFC directly.
Share this: