Year 3 Nature Walk
Year 3 Nature Walk
12 September 2018 (by Head Admin (headteacher))
Year 3 study the school environment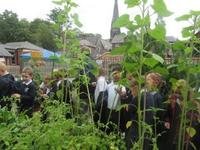 Year 3 were using their observation skills as they walked around school looking at the changing environment around them.
They were particularly interested in all the vegetables growing in the veg patch and all the seeds they could see on the trees.
We will be looking closely at three trees over the year to see how they change.
Share this: