The rugby team are triumphant
The rugby team are triumphant
5 October 2018 (by Head Admin (headteacher))
3rd place out of 20 schools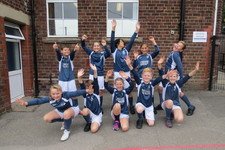 What a very exciting and at times nail biting afternoon of tag rugby, with the yr 6 coming 3rd out of 20 primary schools. They had 4 matches in their section beating
Park Royal 3-1 ( tries scored by May, Billy and Jamie)
Vernon 3-2 (tries from Arthur and Sam x2)
Disley 5-2 ( tries from Sam, May and Billy x3)
Ivy Bank 4-0 (tries from Alice, Sam and Jamie x2)
They then played a very tough match against Marlborough in the semi final, which they were unlucky to lose 3-0, the score line not really reflecting the standard of play by Alderley Edge.
The third and fourth play off was a local derby against Nether Alderley with play going from end to end. The score after the final whistle was 2-2, with Billy scoring twice, so it then went to golden goal. After a tremendous team effort Sam finally scored the winning try, securing bronze medal position.
Well done to the whole team, thoroughly deserved!
Share this: