Board Games Appeal
Board Games Appeal
8 October 2018 (by Head Admin (headteacher))
Have you got any board games that you no longer use?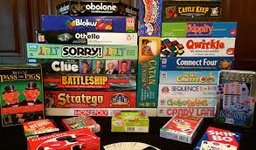 With the winter approaching the likelihood of an indoor playtime heightens.
Do you have any board games and jigsaws that your children no longer play with that we could have in school?
Donations of traditional games such as Guess Who, Snakes and Ladders, card games etc would be welcomed to replenish our cupboards.
Please only donate games that are in good condition and do not require batteries.
Donations should be handed in to your class teacher.
Many thanks.
Share this: