Victorian Year 5
Victorian Year 5
19 October 2018 (by Head Admin (headteacher))
Year 5 become Victorian servants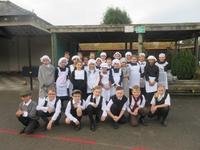 On Wednesday the Year 5s visited Tatton park Mansion in a bid to secure employment as a servant to Lord and Lady Egerton.
They waited in trepidation to meet the Housekeeper who would decide at the end of the day if they had been successful in securing a position.
After scrubbing floors, making beds, setting fires and baking scones the year 5s were exhausted.
They would be required to start work at 5:30am and work until midnight if there was a ball or party hosted by the Egertons.
The Year 5s were very excited to hear that royalty would be staying at Tatton Park to celebrate Queen Victoria's Golden Jubilee and therefore lots more servants would be needed.
Share this: