Judo Club at AECPS
Judo Club at AECPS
22 October 2018 (by Head Admin (headteacher))
Judo came to Alderley Edge today!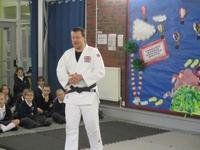 All the children in KS2 experienced a judo workshop hosted by Paul from judoeducation.co.uk.
Volunteers took part in demonstrations involving the many skills and disciplines associated with this Olympic sport, but were advised not to try this in an unstructured situation.
Judo classes will be offered to our KS2 children from Wednesday 7th November, 8.00 – 8.45.
Each child will bring home further information tonight, so apply soon if you're interested!
Share this: