Maths Experts in Year 2
Maths Experts in Year 2
23 October 2018 (by Head Admin (headteacher))
What are the most efficient methods?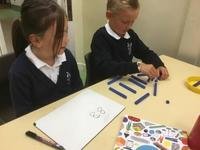 The children in Year 2 are using different methods to add up a 2 digit number to another 2 digit number. They have decided that the most efficient method is to use column addition or, as an alternative, to partition the numbers and then add them together.
The photos show the children working on problems with their learning partner as well as using tens and ones blocks to check their results.
Share this: