School Games Makers
School Games Makers
25 October 2018 (by Head Admin (headteacher))
The 6 School Games Makers had a great afternoon at Wilmslow High School.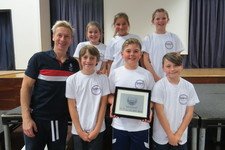 The School Games Makers enjoyed a workshop with Craig Heap, a former Comonwealth and Olympic gymnast, where they had to think about what makes a good SGM and rank their own personal skills such as organisation, team work and public speaking.
They also had to think of ways that they could get everyone to be more active for 30 minutes every day.
This included a practical session where they learnt different ways to be active when in the classroom and they came up with lots of ideas for the personal challenge, which each class will be asked to do after the half term holiday.
Finally, the school games makers made a pledge stating what they will do whilst in the role of SGM.
Share this: