Making a Difference at Harvest
Making a Difference at Harvest
26 October 2018 (by Head Admin (headteacher))
Our Harvest Celebration reminded us all how fortunate we are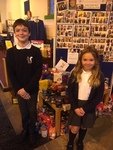 The children really made a difference at their Harvest Service by sharing songs and poems, reminding us to think of others at this time of year.
All the children kindly brought in to school donations for the Hampers of Hope food bank to be shared with families in our local area who are in need of support.
Thank you also to our parents and families for these donations. St Phillips Church has a food bank collection point all year round if you wish to make further donations.
Share this: