World Silver Medal in Triathle
World Silver Medal in Triathle
5 November 2018 (by Head Admin (headteacher))
An amazing achievement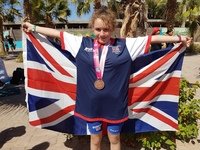 Many children have so many talents that can often lay hidden so when we hear about an amazing success we like to celebrate.
Steffi (Year 6) is a bi and tri-athlete. She trains on a regular basis in running, swimming and shooting before and after school.
During half-term Steffi completed in the UIPM Bialthe and Triathle World Championships for Under 11s in Egypt.
She competed on an individual basis as well as part of the Great Britain Team.
Steffi as part of the GB team achieved 2nd in Triathle and gained bronze in Biathle both in the team competitions and is individually ranked 3rd in Triathle.
A fantastic achievement.
Share this: