AECPS helps gain local award
AECPS helps gain local award
7 November 2018 (by Head Admin (headteacher))
How exciting for the Alderley Edge In Bloom Group to have won a prestigious GOLD award in the RHS North West In Bloom competition.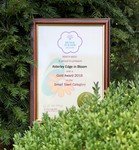 At the Britain in Bloom awards ceremony last Friday, the Alderley Edge Bloom Group representatives were delighted to receive a gold award .
Bloom Volunteer Kelvin Briggs collected the award and praised the contribution made by AECPS pupils to the Gold award.
Kelvin said, 'The award reflects contributions from so many volunteers and organisations including AECPS children and staff. The judges were clearly impressed by the children's enthusiasm for nature and gardening at the school .
The next challenge is to win Gold again in 2019 and the school can play another leading role in the quality of our entry. We enjoy a super relationship with the school and it's great to see so many pupils with green fingers!
Well done to everyone at the School!'
Share this: