Chocolate Heaven
Chocolate Heaven
27 November 2018 (by Head Admin (headteacher))
Year 6 start new topic on Fair Trade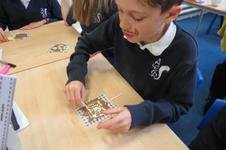 If you don't like chocolate then you wouldn't have enjoyed Year 6 today!
How lucky were they to have a chocolate making workshop with the master chocolatier Oliver Dunne!
Oliver kindly brought chocolate and showed the children how to mould it into different shapes, they made a skull and a chocolate lollipop.
But this experience wasn't just for fun, Year 6 are learning about the concept of Fair Trade and how we can help by buying and using responsibly sourced products.
Oliver also hosts chocolate parties, check out his website - http://www.oliverschocolateparties.co.uk/
Share this: