Oliver Twist in Year 5 Science
Oliver Twist in Year 5 Science
28 November 2018 (by Head Admin (headteacher))
Year 5 help Oliver Twist solve problems in the workhouse!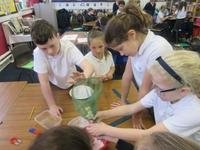 Poor Oliver Twist, he knocked two bowls off the table in the workhouse kitchen.
One was flour for making the bread. One was the mixture for the workhouse stew, added to lots of paper clips that were on the floor.
What a mess!
Fortunately, using the equipment at hand Year 5 were able to separate all the ingredients and put them back into the right bowls. Take a look at the photos to see how they did it.
Share this: