Year 6 Bikeability
Year 6 Bikeability
28 November 2018 (by Head Admin (headteacher))
Year 6 learn to ride safely on the roads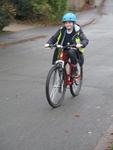 Year 6 today took part in their cycling safety course, level 2, which coincides well with our road safety week in school.
Level 2 ensures the children know how to cycle safely on the roads, with an emphasis on wearing bright clothing and safety helmets.
The instructor was particularly impressed with the behaviour of the children who were willing to listen and learn.
Part 2 takes place next Wednesday when the children will know if they've passed or not!
Share this: