Fire!
Fire!
7 February 2019 (by Head Admin (headteacher))
Year 2 Recreate the Great Fire of London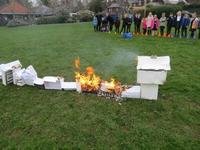 As part of the history curriculum in KS1 the children study 'events beyond living memory that are significant nationally or globally.'
Year 2 have been learning all about the Great Fire of London. The children have been working on building Tudor houses, in the style of the houses that lined the streets of London in the 1600s.
When finished the houses looked very impressive, especially all lined up together. In order to see how quickly the fire spread through London, the children agreed to burn their houses.
The Year 2 children lined their houses up in the field. With the help of Jackie Burt, and the children standing safely behind cones, the bakery was set on fire! The children watched as the fire spread quickly and even changed direction as the wind changed direction. Just like the real fire in 1666!
Share this: