Hockey Team Win Gold!
Hockey Team Win Gold!
14 February 2019 (by Head Admin (headteacher))
AECPS sent 2 teams to the local hockey tournament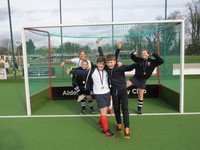 Alderley Edge Primary sent 2 teams to the Wilmslow District hockey tournament at Alderley Edge Hockey Club.
The year 5 team played brilliantly and narrowly missed out on a place in the finals.
The year 6 team managed to qualify for the finals based on goal difference but the result was fully justified. Their great skills and team work shone through and they triumphed, winning gold!
The team will now complete in the regional finals in March.
Well done to all our hockey players.
Share this: