Amazing Archaeologists
Amazing Archaeologists
14 February 2019 (by Head Admin (headteacher))
Year 2 have been investigating poo!!!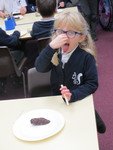 Year 2 have been combining their history and science skills to investigate what they can learn from the past.
The children were presented with historic poo!! They had to use their knowledge of what the different ancient civilizations ate to inform them if the remains were Roman, Egyptian or from somewhere else.
The children had great fun and demonstrated fantastic observation and reasoning skills to be able to interpret the past.
They were warned not to repeat the experiment outside school!!
Share this: