Year 6 Super Science
Year 6 Super Science
15 February 2019 (by Head Admin (headteacher))
What a Science Week Year 6 have had!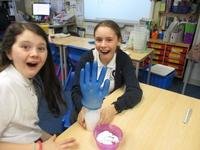 Science week for year 6 began with foresensic science. Year 6 learned how a crime scene would be investigated using fingerprints and teeth prints!
Then they had a classification lesson on invertebrates using internet based resources. Some great learning partner work went on here!
Finally Year 6 investigated the science of chemistry using acids, alkalis and neutrals – great fun and a great week!
Share this: