Monster Fun!
Monster Fun!
21 February 2019 (by Head Admin (headteacher))
A fabulous MONSTER day at The Squirrel Club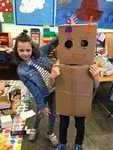 February half term has been great fun at The Squirrel Cub. Each day has been different. Today the children have created junk monsters, cake monsters and even become monsters.... we even managed to scare Mrs Reynolds, Joanne and Grace!!
Monday 25th February is an INSET day.
There are a limited number of spaces available at The Squirrel Club for those parents needing last minute childcare.
If you would like to reserve a place please email bookingTSC@aecps.org
Share this: