Chess at lunchtime
Chess at lunchtime
13 March 2019 (by Head Admin (headteacher))
In response to School Council we now have a chess club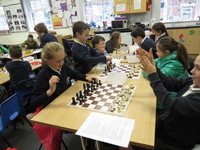 Year 6 class council asked via School Council if we could have a board games club. As a result we have opened up The Squirrel Club at lunchtime for children to play chess.
It is early days and we are all just learning the rules but we are having great fun.
The Chess Club is open on a Tuesday lunchtime from 12.45 - 1.10 on a first come, first served basis for years 2 - 6.
Share this: