Year 1 and 2 at the Big Sing
Year 1 and 2 at the Big Sing
14 March 2019 (by Head Admin (headteacher))
Year 1 and 2 had a wonderful afternoon singing, with other Wilmslow Primary Schools, for family and friends.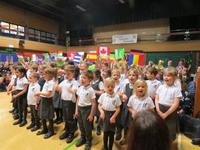 The theme this year was 'Our World'.
The massed songs were superbly sung and the individual song from each school was of a very high standard. The Year 1 and 2 children performed our individual number 'One World' brilliantly.
All our children had lots of fun both learning the songs and performing at Wilmslow Leisure Centre.
All the teachers were very proud of our year 1 and 2 children.
Share this: