Easter Experience at St Philip's Chruch
Easter Experience at St Philip's Chruch
2 April 2019 (by Head Admin (headteacher))
As part of our religious education curriculum, will be visiting St Philip's Church to learn about the Easter Story.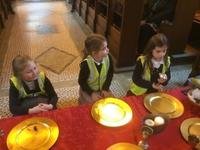 The Year 2 children visited today.
The children visited 5 decorated stations in the church and heard stories about the Last Supper, the Garden of Gethsemane, the Cross , the tomb and the stone.
The children particularly enjoyed having a drink, biscuit and small chocolate egg!
We would really like to thanks Rev Pye and all his volunteer helpers for this lovely experience.
Share this: