Year 3 Italian Cuisine
Year 3 Italian Cuisine
3 April 2019 (by Head Admin (headteacher))
As part of their food D & T topic, the Year 3 children had a fabulous time making their very own pizzas.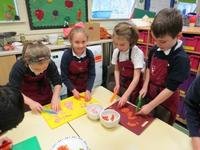 The children developed many skills from the designing element- deciding on their favourite topping to cooking their pizza in the oven. T
hey accurately weighed out their ingredients, kneaded their dough, sliced the ingredients for their topping and waited patiently for their pizza to cook.
As part of their evaluation, the children will be asked to use three words to describe their pizza. I wonder what words they will use?
Share this: