U9s Football Team
U9s Football Team
4 April 2019 (by Head Admin (headteacher))
We are so proud of our U9s football team who have been playing weekly at the Ryleys tournament.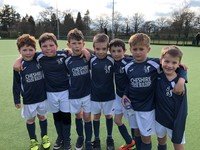 All but one of our team are in Year 3 and were playing Y4 teams.
It was hard going and we stayed strong, kept playing and showed fantastic grit, resilience and determination.
Our progress of the 4 weeks was incredible and we never gave up.
We can't wait for next year's tournament!
Share this: