Netball World Cup Visits School
Netball World Cup Visits School
4 April 2019 (by Head Admin (headteacher))
We were so excited today to have the actual netball world cup in school.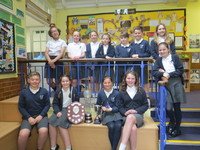 The Netball World Cup is being held in Liverpool this year.
Today, the real trophy visited school and was shown to all the children. The staff had to wear special glove to protect this prestigious trophy and the children were very impressed.
We talked to the children about how they could aspire to be in a team to be the best in the world and Mrs Clee said that some of our netball teams could reach the very top with hard work and determination.
This year we have won the Wilmslow League and Cup. Who knows if any of our children will lift the World Cup in the future!
Share this: