Year 6 Food On The Go!
Year 6 Food On The Go!
5 April 2019 (by Head Admin (headteacher))
Year 6 were designing Food on the Go, and it certainly did!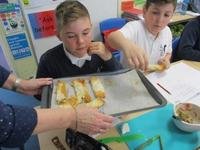 The process began with the basic skills of peeling, grating, claw grip and bridge hold cutting skills.
A basic spring roll was made and consumed and the tastes and textures evaluated.
The next stage of the process was to design a healthy option using selected ingredients, make it, evaluate it and then eat it!
A thoroughly enjoyable process – we bet they won't want any tea!
Share this: