Eggcellent Fun
Eggcellent Fun
15 April 2019 (by Head Admin (headteacher))
Children at The Squirrel Club have an 'eggecellent' time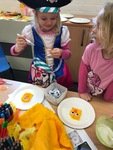 What a fun filled time the children all had at The Squirrel Holiday Club last week.
They made Easter nests, crafts and even had Easter egg hunts in the lovely Spring sunshine.
If you would like to book a session for Tuesday, Wednesday or Thursday this week please just phone or call in on any of the days, we have some spaces available.
Contact
direct line on 01625 704 513
Easter wishes, Mrs Reynolds and all TSC staff
Share this: