Terrible Tudors in Year 3
Terrible Tudors in Year 3
2 July 2019 (by Head Admin (headteacher))
Year 3 step back in time to the year 1590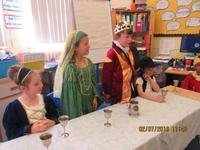 Year 3 have had a wonderful time learning 'How to Survive in Tudor England'.
They were taken back in time to 1590 and in just a few hours experienced a Tudor courtroom (never offend the Queen!), a plague doctor (remember your lavender!), a 'wise woman' (don't ask her to dye your hair!) and a banquet!


There were toys and games from the time and they brushed up on our Roman Numerals too!
A wonderful interactive way to inspire their learning about history. Fabulous Tudor costumes too Year 3!
Share this: