Rounders Success
Rounders Success
4 July 2019 (by Head Admin (headteacher))
The yr 6 rounders team played in the Wilmslow Schools Rounders tournament at Wilmslow High School.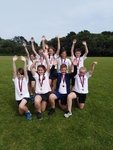 There was some fantastic batting, fielding and bowling skills as well as excellent team work and communication by everyone. In total the team scored 36 1/2 rounders and conceded 12 1/2. They played 7 matches, winning 6 games and drawing 5-5 against Lacey Green.
At the end of the tournament these 2 teams were still equal on points, so both Alderley Edge and Lacey Green were awarded joint winners.
Well done to everyone who took part, it was a fantastic afternoon of rounders.
Share this: