Fabulous Yr2 Football
Fabulous Yr2 Football
4 July 2019 (by Head Admin (headteacher))
We are very proud of our year 2 football team at a local tournament.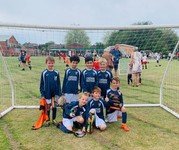 Year 2 played 4 matches. They won 3 and conceded zero goals and the final game the drew 1-1.

Charlie was announced 'Year 2 player of the tournament' and was given a trophy.
Well done team - a fantastic result!
Share this: